Dr. Heather Lane started VCAS after seeing many instances where veterans' lives were greatly impacted by their pets. Dr. Lane had several family members who served and all of them had a dog, or two, that made every day better. While working at veterinary clinics, many veteran clients would open up about just how much their dog meant to them. Oftentimes, spouses would secretly share that if not for the dog, their significant other wouldn't be here. Through veterinary school, Dr. Lane became passionate about One Health, the concept that human, animal, and environmental health are all related, and the benefits of the human-animal bond.
When a tragedy occurred with a close family member struggling with mental health, Dr. Lane felt God's calling to work in the space of improving human lives through animals. With a heart for veterans and a solid belief in the healing power of dogs, Dr. Lane, with the support of her husband, Chris Macisco, began the process of starting Veteran Companion Animal Services.
– Veteran Companion Animal Services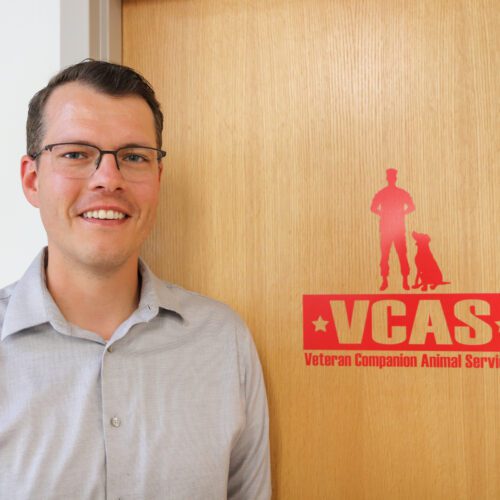 Dr. Lane is a veterinarian by training and is passionate about the life-changing benefits dogs bring to our veterans and military families. Dr. Lane holds a Master of Public Health and is board certified in a specialty that encompasses both human and animal health. Having a background in human and animal health provides a unique perspective for supporting both veterans and dogs through the process of companion animal ownership. Several generations of her family have served in the armed forces and she is grateful for the opportunities to now serve the veteran and military family community.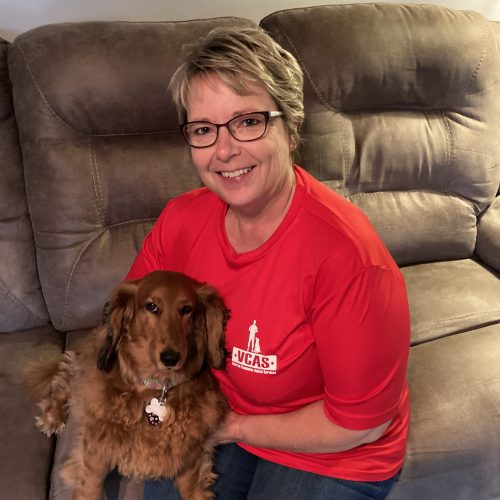 As the Administrative Coordinator, Pam leads the day-to-day administrative operations, allowing VCAS to grow in capacity and best serve our veterans and dogs. Pam came to VCAS with a wealth of experience. She was employed by Chemical Abstracts Service for a little over 33 years as a division assistant to the VP of Technology Services before retiring. Pam, her husband Jeff and rescue dog Missy live in Delaware, Ohio. As a rescue dog owner, Pam has compassion for our 4-legged friends and the mutual benefits to both people and animals through the human-animal bond.
Administrative Coordinator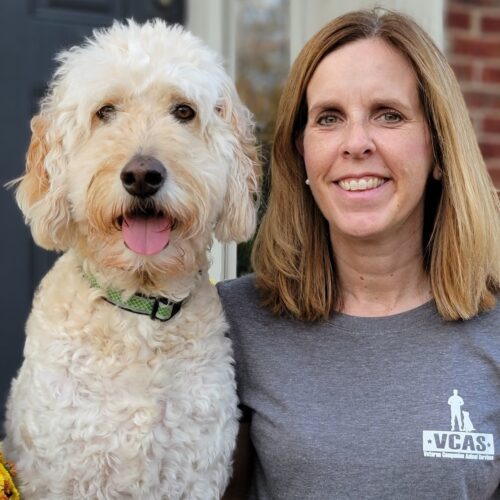 Lisa is a positive reinforcement dog trainer. She has experience in nonprofit and administrative work. Her skills and knowledge fit the VCAS mission and we are thrilled to have her in this role. At home, Lisa is a wife, mom and dog mom to an adorable Goldendoodle, Lilly.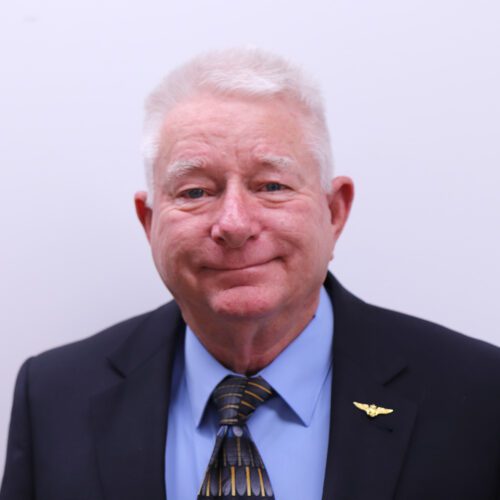 Captain G. T. (Tom) Lennon, Jr. USN (Ret) is a former Naval Aviator who served for over 29 Years. He was in the VS community flying the S-3A Viking. He had command of VS-28 and had over 700 carrier landings and 5,000 military flight hours. He was Navigator, then Executive Officer of the USS Forrestal CV-59. He commanded the USS Trenton LPD-14 and was involved in operations in Somalia. His last assignment was as Professor of Naval Science atThe Ohio State University. He then was the Senior Naval Science Instructor at Franklin Heights HS NJROTC for 18 years. After retiring he volunteered with Veteran Companion Animal Services for 2 years filling the role of Patriot Affairs lead. He became Interim Director of VCAS February 28, 2022.
Patriot Affairs and Veteran Outreach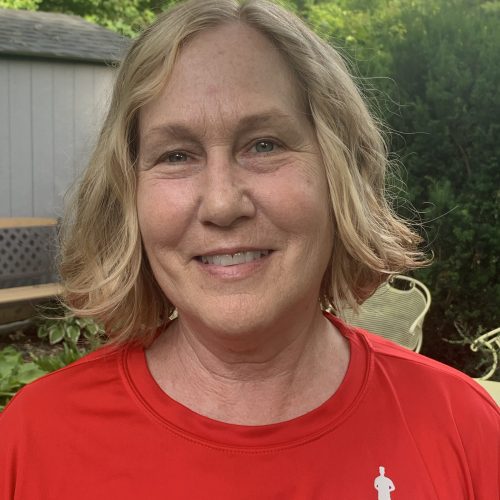 Joe has spent most of his life in public service. Growing up in nearby Granville, he attended The OSU
majoring in Political Science. In the mid 60's he signed up for a 4-year stint in the Army Security Agency
where assignments included an extended tour in Viet Nam with his final year in Japan where he met his
wife.
His next phase in life began with work in Governor Gilligan's office followed by a career as a workplace
safety and health consultant with the Bureau of Workers' Compensation. Upon retirement he became a
private safety consultant for both general industry and construction where every day was a learning
experience.
While being relatively unscathed from his military experience, Joe is aware of those fellow vets who could
use a little assistance following their enlistments. To that end he is committed to doing what he can to
improve their situation through VCAS.
He has learned to live by the credo of "trying to be the kind of person my dog thinks I am!"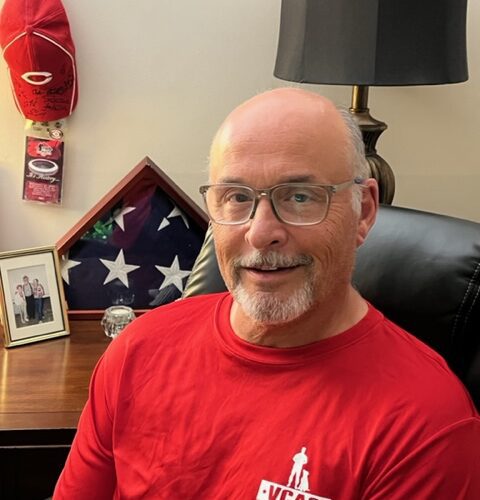 ⭐

Master Sergeant – E8, US Army (Ret)
Board of Directors
The Veteran Companion Animal Services Board of Directors provides oversight and leadership by adopting sound, ethical and legal governance and financial management policies that allow VCAS to best serve veterans for years to come. The board also plays a key role in fundraising so that VCAS can achieve its mission.
Dr. Krista La Perle is a Scientific Director in Global Pathology within Drug Safety Research & Evaluation at Takeda Pharmaceutical Company, working remotely out of their Cambridge, Massachusetts location. She is a veterinarian with a PhD and board certification in veterinary anatomic pathology. Prior to joining Takeda, Krista had a 20-year academic career, most recently for 13 years at Ohio State University where she was engaged in biomedical research as well as teaching and mentoring veterinary students, residents and graduate students. She is very active in her professional societies, including as a previous Board Director and 2018 President of the American College of Veterinary Pathologists. Her passion for honoring veterans and families for their service and sacrifices is attributed in part to her paternal grandfather, a World War II veteran in the US Army 4th Cavalry Regiment. She has been involved with VCAS since 2019. In addition to military veteran causes, she volunteers her time for the Breast Cancer Fund of Ohio and local homeless outreach initiatives. She has a feline fur baby, Puck, and her hobbies include Columbus Blue Jackets hockey, scuba diving and riding her motorcycle with the Columbus Chrome Divas.
Governance Committee Chair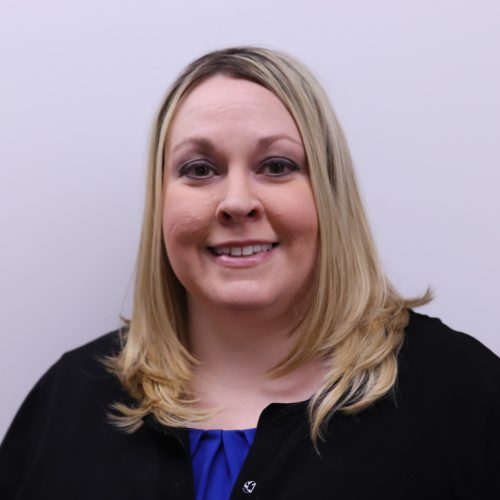 Debi Johnson was elected to the VCAS board in 2020, serving on the Fundraising Committee. Debi joined VCAS in 2019 as a volunteer, seeking a new opportunity to support her community in two of her areas of passion: rescue dogs and veterans. Debi is currently a Senior Vice President and Commercial Implementation Director for Huntington National Bank, holding a Bachelor's Degree in Business Management from Ohio Dominican University. She has over 20 years of experience in the financial industry, most recently in strategic planning and delivery. Debi has a long history of fundraising and event planning for local non-profits, a skillset that she is leveraging for VCAS. During her free time, Debi enjoys cooking, volunteering with a local dog rescue, and spending time with her husband and fur babies.
Ops and Risk Committee Chair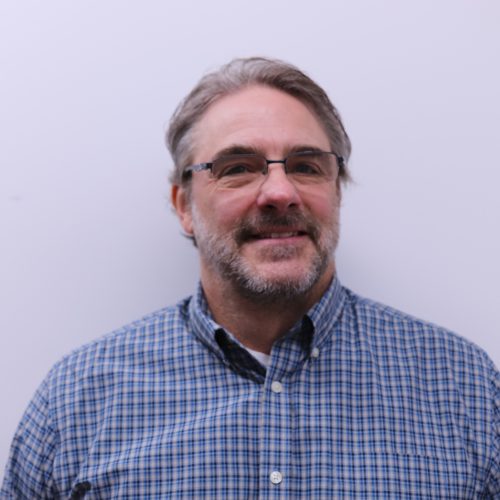 Kevin Gadd is a serial technology entrepreneur and retired Chief Master Sergeant with 23 years of Air Force and Air National Guard service. Chief Gadd served in various technology and leadership roles during his distinguished career including Communications Superintendent, Combat Communications Team Leader, Unit First Sergeant and program director for the national Mission Driven Mentoring program. Kevin also served as Commercialization Director for the Central Ohio region's IT startups while working at Tech Columbus. He then went on to start Venture Highway, a technology platform for teaching entrepreneurship. He has written several online textbooks on entrepreneurship and taught entrepreneurship at Ohio State, Columbus College of Art and Design, and Dar Al Hekma University. He has an undergraduate degree in German from Ohio State and an MBA from Franklin University. Kevin currently serves as the state director for Apprenti, a national nonprofit helping veterans, women, and people of color get into technology careers through registered apprenticeship.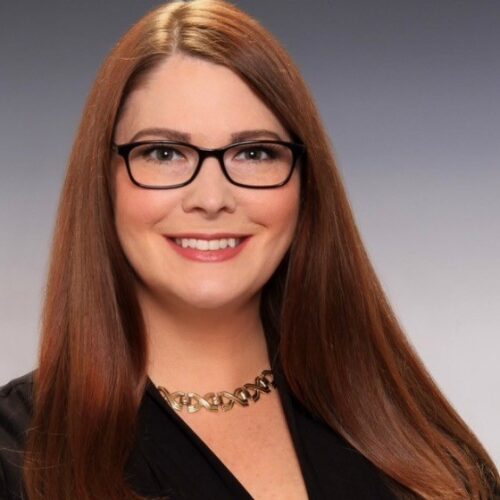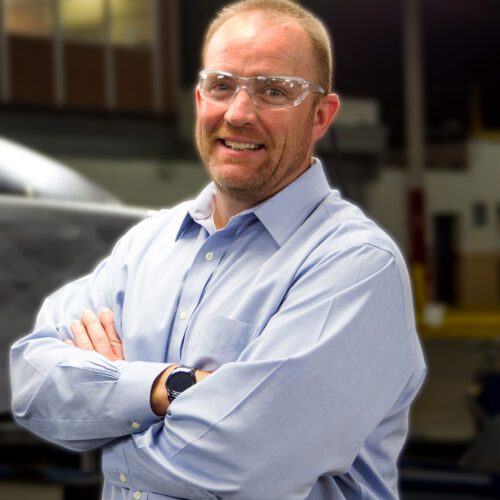 Mark Murfitt is the Director, Marketing and Sales for McWane Poles, a division of McWane, Inc. and has over 20 years of experience in both commercial and operational roles supporting a variety of industries. Mark is also an eight-year veteran of the U.S Army, where, as an infantryman he provided support for the nation during Operation Desert Shield/Desert Storm and on humanitarian service missions during his enlistments. Mark's educational experience includes his MBA with a concentration in Leadership from Ohio Dominican University, a Graduate Certificate in Non-Profit Leadership from Park University and his Bachelor of Science, Multidisciplinary Studies from Liberty University. Mark is active with veteran's organizations here in central Ohio and honored to have the opportunity to support the VCAS mission and assist our nation's veterans.
With a dedication to duty and service, Kim Doucher spent eight years in military uniform and was decorated for service during the Desert Storm conflict. On her return to central Ohio, Kim received both her Bachelor of Arts (magna cum laude) and her Juris Doctorate from The Ohio State University. She practiced law in Columbus for 25 years, focusing on litigation and with expertise in injury, insurance and school law.
Kim is passionate about veteran issues as well as animal rescue efforts and has fostered more than 20 dogs since 2013 – with only two 'foster fails' who became life-long members of the family. Kim joined the VCAS Board in 2023 in celebration of these two loves.
Kim and Joe live happily in their Worthington empty nest where they can remain close to their three daughters, son-in-law and two grandchildren. They regularly ride their motorcycles locally as well as cross-country. Kim is also scuba-certified, active with horses and enjoys time spent (particularly outdoors) with friends and family.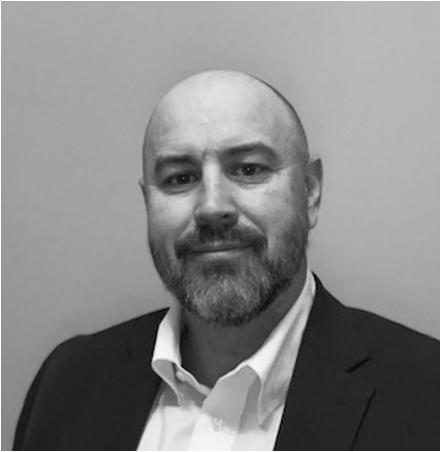 Bill Hammond currently is the Managing Director of a boutique consulting firm focused on helping companies streamline operations. In his most recent engagement, Mr. Hammond served as an interim-COO of a Luxury Italian Footwear company. Prior to his consulting journey, he served as Senior Vice President & COO of ascena Retail, the parent company of Loft, Ann Taylor, Lane Bryant, Justice, dressbarn, Maurices and Catherines. Mr. Hammond was the senior leader responsible for Ascena's Shared Service functinos such as Distribution, Logistics, Merchandise Operations, Trade and Customs Compliance, Indirect Procurement and Engineering teams.
Prior to his current role, Mr. Hammond served as Vice President & CFO for ascena Brand Services, the shared service function providing back-office services including end to end Supply Chain, Information Technology, Indirect Procurement, Asset Protection, Real Estate and Merchandise Planning & Allocation for acena's 9 Portfolio Brands from August 2015 to May 2019. During this time, he also was the Board Chair for ascena's Global Innovation Center headquartered in Bangalore India.
Prior to joining ascena, Mr. Hammond served as an elected officer for Nationwide Insurance as Associate Vice President from 2011 to 2015, where he served as IT Chief Finance Officer as well as various management roles within Nationwide Insurance from 2004 to 2011, including Director of Corporate Planning.
Mr. Hammond spent the first 8 years of his career with International Business Machines (IBM) Corporation where he held various roles including Business Development Manager responsible for Merger and Acquisition models, transitional service agreements and was the World-wide Operations Lead responsible for Global Inventory Management within IBM's server group.
Bill is originally from Southeastern Indiana (Westport), graduating High School from South Decatur. He earned multiple degrees while attending Rose-Hulman and Indiana University (Bloomington). He lives in Galena Ohio with his wife, Christy raising 4 daughters. Mr. Hammond served in local government as a Vice-Chair of Kingston Townships Board of Appeals from 2013 to 2017.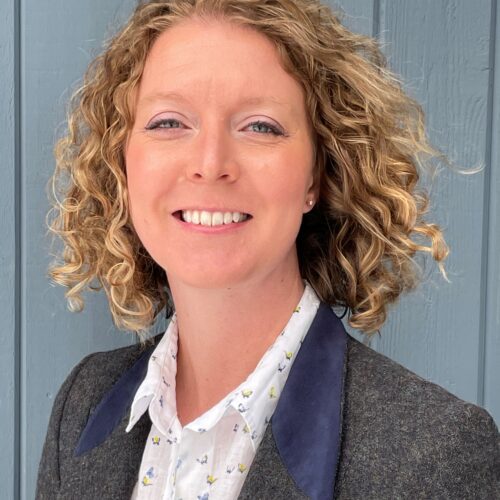 Leslie has always been fascinated with the human animal bond and began volunteering with various animal shelters and shadowing in veterinary clinics long before being old enough to work. She has also volunteered with several Equine Assisted Therapy programs. In her early professional life, she worked as a veterinary technician. Her first focus was in large animal medicine at several Veterinary Teaching Hospitals followed by working as a surgical technician in a small animal specialty practice.
Leslie is the spouse of an Air Force Veteran and spent 8 years supporting her husband in his military career. They were stationed at Elmendorf AFB (now Joint Base Elmendorf Richardson) in Anchorage, Alaska and at RAF Mildenhall just outside Cambridge in the United Kingdom. The demands of military life led to a career change for Leslie and she is now a Technology Consultant with Accenture.
Outside of work, Leslie has a horse named Smudge, two dogs, and three cats. She loves to get outside and do anything active.
Becca Yuncker joined the VCAS board in 2023. Professionally, she has worked in Field Finance for Chipotle since 2020, and previously has a background in International Finance and Inventory Planning for multiple Fortune 500 corporate retailers. Originally from the Cleveland, Ohio area, she studied Marketing and International Business at Kent State University where she received her Bachelor's degree, graduating Summa Cum Laude. Personally, she is active in multiple community organizations with the intent to always better herself and positively impact those around her. She is an avid animal lover with four fur babies at home and is proud to be using her passion to support the veteran community.