by Alison Vossmoore
Tis the season for crazy weather to occur here in Ohio, especially lightning and thunderstorms, flooding, tornadoes, etc. Are you and your four-legged family members ready? The best way to be ready for an emergency, be it a weather event or mandatory evacuation, is to be prepared! Make a "Go-Kit" for you and your pets. This makes evacuation much quicker and less stressful for both you and your pets! Include in this "Go-Kit" your pet records. Create a computer document that has all your pets information including microchip information, rabies tag, pet license and even personality traits and special identifiers. Once this is saved on your computer it's easy to update as needed. A huge hint for cat owners is to keep your carriers out and accessible! In my next blog I will write about how to make the carrier not so scary for our feline friends.
Here's a list of what's in my "Go-Kit"
-Pet Records
-2 leashes, bag of poop bags
-4 flexible feed/water bowls
-Dog toys, antler and raw hides
-Cat, Dog Food, treats
-Lightweight Kitty litter, scoop, Tote will double as litter box
-Multi-Use tool/flashlight
-Baby wipes
-Hand Sanitizer
-Duct Tape
-2 First Aid kits, bandage wraps, band aids
Below is an incredible resource to make sure you have everything you need in the event of an emergency.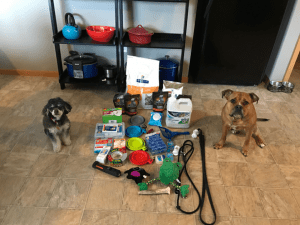 Here is a picture of my dogs and Colby with their "Go-Kit"!